The Tube Exposed (Andre Deutsch)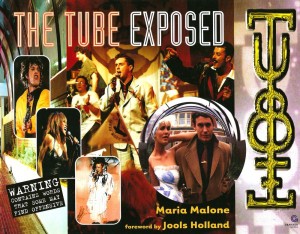 The Tube was innovative, anarchic, riotous live television at its best. For five years the show brought music, humour and chaos into our living rooms on Friday evenings, making it the perfect start to the weekend. In The Tube Exposed, Maria Malone describes what made the programme so unique. With contributions from Jools Holland and Paula Yates, as well as directors, producers, researchers and guests, she recreates the frenetic atmosphere behind the scenes as well as on-air. The book is as funny, energetic and iconoclastic as the show itself.
Publisher: Andre Deutsch Ltd
ISBN: 9780233997162
Type: TV Tie-in
'I have enjoyed enormously looking through Maria Malone's excellent book on The Tube. It is a beautifully-crafted, affectionate book which will add lustre and style to any home or office. This book has in many ways caught the spirit of The Tube. Its pages, like the programmes themselves, are filled with spontaneity, a love of music, and bare-faced lies …
I insist you purchase this book, or if you are unable to do so, you steal it.'
Jools Holland.
When The Tube filmed with the Frankies in Liverpool they didn't even have a record deal. Once the film aired their careers took off under the guidance of producer Trevor Horn. This is the clip that started it all: